The Junior League of Worcester is open to women of all ages who are interested in voluntarism in Central Massachusetts.
Whether you are a recent or long-time Worcester resident, a new college graduate, in the work force, a stay-at-home mom, an "empty-nester" or even enjoying retirement, the JLW has something for you.
Although we are know for our community service, we are so much more. Very few volunteer-driven organizations provide the training and development JLW offers its members. We are one of the largest and most effective women's networking organizations in the world! And we are connected to women across the globe.
We are focused on:
Voluntarism and community service: The Junior League of Worcester focuses on creating positive change in our community. We do this by inspiring ourselves and those around us to bravely address the most pressing issues facing our citizens. Whether it is working with young girls to give them tools to deal with peer pressure and educational challenges or working with women transitioning out of shelters into a new life, The women of The Junior League of Worcester are always looking at ways to provide lasting, practical and sustainable solutions to today's most pressing issues.
Community Development: The Junior League of Worcester has worked tirelessly over the years to create positive change in the community. Often times, we do this by partnering with other non profits in our area. We provide trained volunteers who can step in and help fill any resource gaps so that we all contribute to a better future for our city and its citizens.
Professional Development and Training: Here at The Junior League of Worcester, we develop the next generation of female civic leaders. We inspire our members to be the spark in our community and create change. We do this but providing not only hands-on training on how to manage a non profit and design impactful programs, but also by giving our members the very best education on community issues and best practices for community leadership. As part of the AJLI, our members have access to some of the greatest minds in philanthropy today and can network with thought leaders and other junior league members from across the globe. Together, we inspire and empower one another to continue to be the change that is needed in our community.
Lifelong Connections: When we ask our members what they love most about being part of The Junior League of Worcester, we invariably hear that along with doing amazing work that improves the lives of women and children, the friendships made here last a lifetime. Our membership is diverse, but one thing binds us all together…we are women who love the community and love to helping other women be all that they can be. Working together on a project, a fundraiser or even  just chatting before one of our general meetings will give you a chance to meet like minded women who just might be your next best friend!
The Association of Junior Leagues International
The Junior League of Worcester is a member of the Association of Junior Leagues International (AJLI). Since its founding in 1901 by social activist Mary Harriman, The Junior League has evolved into one of the oldest, largest, and most effective women's volunteer organizations in the world, encompassing more than 155,000 women in 293 Leagues in four countries.
It's time to renew your JLW Membership!
Thank you for being an integral part of The Junior League of Worcester. For close to a century, we have shared our passion for voluntarism, developed the potential of women and improved the community in which we live and work. It is because of your dedication that we continue to give more women and children hope, a voice, and a brighter future.
As a membership organization, your dues play a critical role in maintaining our ability to deliver meaningful programs and short-term aid to the community. In 2016, we provided Food4Thought workshops to more than 100 middle school aged girls and participated in many community-based charitable activities, including the Abby's House, ReStore, Community Harvest Project and CASA donation drives, that helped underprivileged individuals right here in Worcester.
Paying your membership dues is as simple as using the secure PayPal buttons below. You will be given the option to pay by credit card if you do not have a PayPal account.
If you would prefer to use our membership form, simply download one of the two PDFs, 2017 Membership Renewal – Active or 2017 Membership Renewal – Sustainer. Print and complete the form, and return it to us by mail with your check made payable to The Junior League of Worcester by March 1, 2017.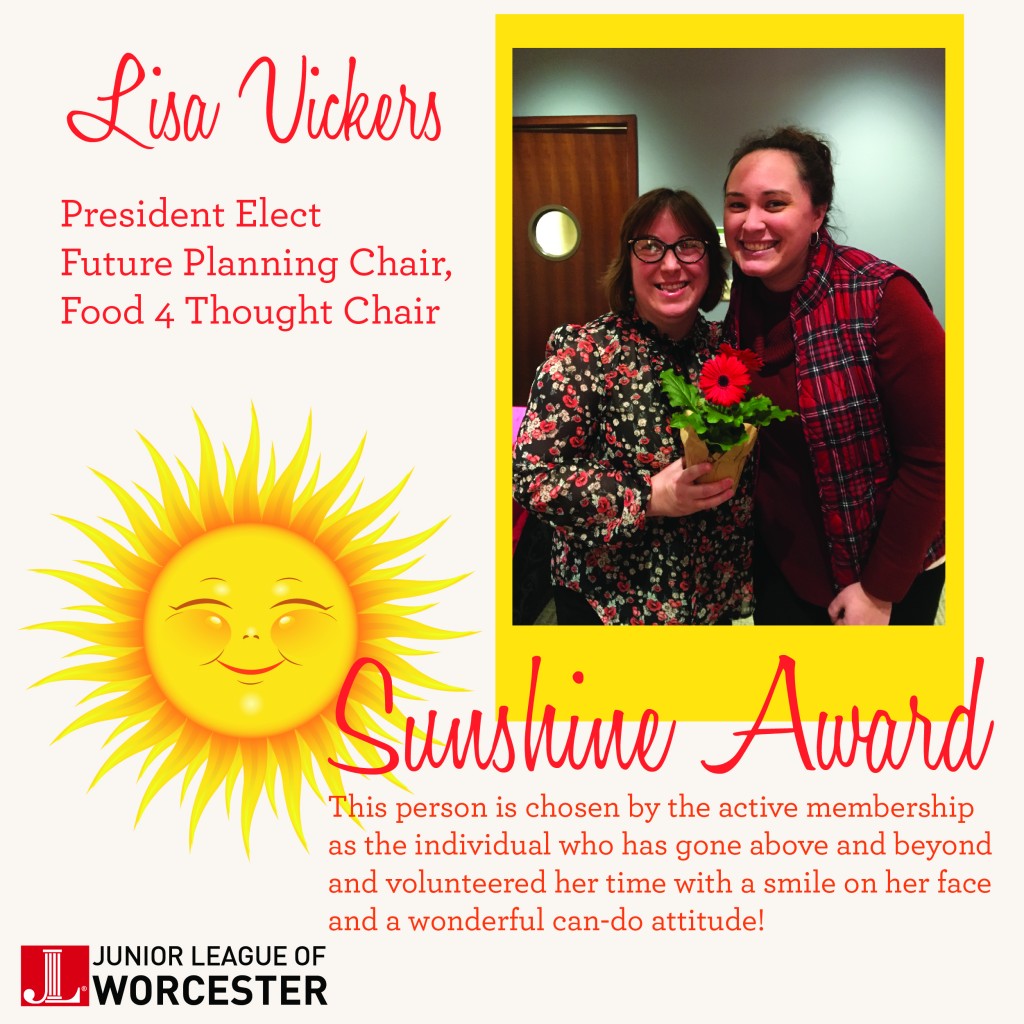 We are pleased to announce the most recent recipient of our JLW Sunshine Award, Lisa Vickers! Not only was Lisa President last year, she is President-Elect this year. She is also the chair of the Future Planning Committee and has graciously stepped in as our Food 4 Thought chair. Lisa is a true example of what the JLW represents, servant leadership, and always goes above and beyond with the time she dedicates to the JLW. We look forward to having you as our President 2.0 next year Lisa…congratulations!