The week of February 25, we will be launching a new initiative to support the Worcester community, our first annual Little Black Dress Initiative. This campaign is a proven model that has garnered success in other like-minded communities. Little Black Dress Initiative (LBDI) is a poverty awareness and fundraising campaign to illustrate the effects poverty can have on a women's access to resources, confidence, and opportunities. Throughout the week, Junior League of Worcester members will wear one black dress for five days along with an "ask me about my dress" button. Whether in their office or out and about at the local coffee shop, our members will be sharing information on the struggle hundreds of women face each day right here in Worcester. Funds raised through our campaign will go directly to funding our programming that focuses on women living in homelessness and children aging out of the foster care system.
THERE ARE A FEW WAYS YOU CAN SUPPORT OUR LITTLE BLACK DRESS INITIATIVE…
Attend our mid week celebration event at Lock 50.  You can reserve your space by clicking on the picture.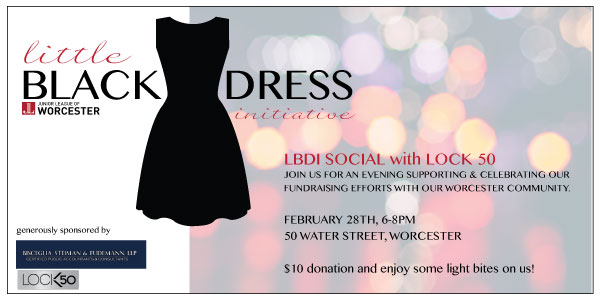 Donate to our CrowdRise fundraising page, just click on the picture.
We wouldn't be able to make the Little Black Dress Initiative a success with our campaign sponsor

Thank you to our LBDI Social location sponsor

Don't forget to use our Amazon Smile Banner when shopping online!
The same AMAZON you know and love….but every time you shop, you support the Junior League of Worcester!